Trial By Fire: Screening and Conversation
Written by the Academy Award Winning Geoffrey Fletcher (Precious), and based on award-winning The New Yorker article by David Grann, Trial by Fire is the true-life Texas story of the unlikely bond between an imprisoned death row inmate (Jack O'Connell) and a mother of two from Houston (Laura Dern) who, though facing staggering odds, fights mightily for his freedom. Cameron Todd Willingham, a poor, uneducated heavy metal devotee with a violent streak and a criminal record, is convicted of arson-related triple homicide in 1992. During his 12 years on death row, Elizabeth Gilbert, an improbable ally, uncovers questionable methods and illogical conclusions in his case, and battles with the state to expose suppressed evidence that could save him. Her efforts ultimately fail, and since Willingham's execution, the disturbing question remains: Did Texas execute an innocent man?
Director, Edward Zwick (Glory, Legends of the Fall, Traffic), and cast members, Laura Dern and Jack O'Connell joined FOLCS on stage following a screening of Trial By Fire.
This event was produced in partnership with Brooklyn Academy of Music.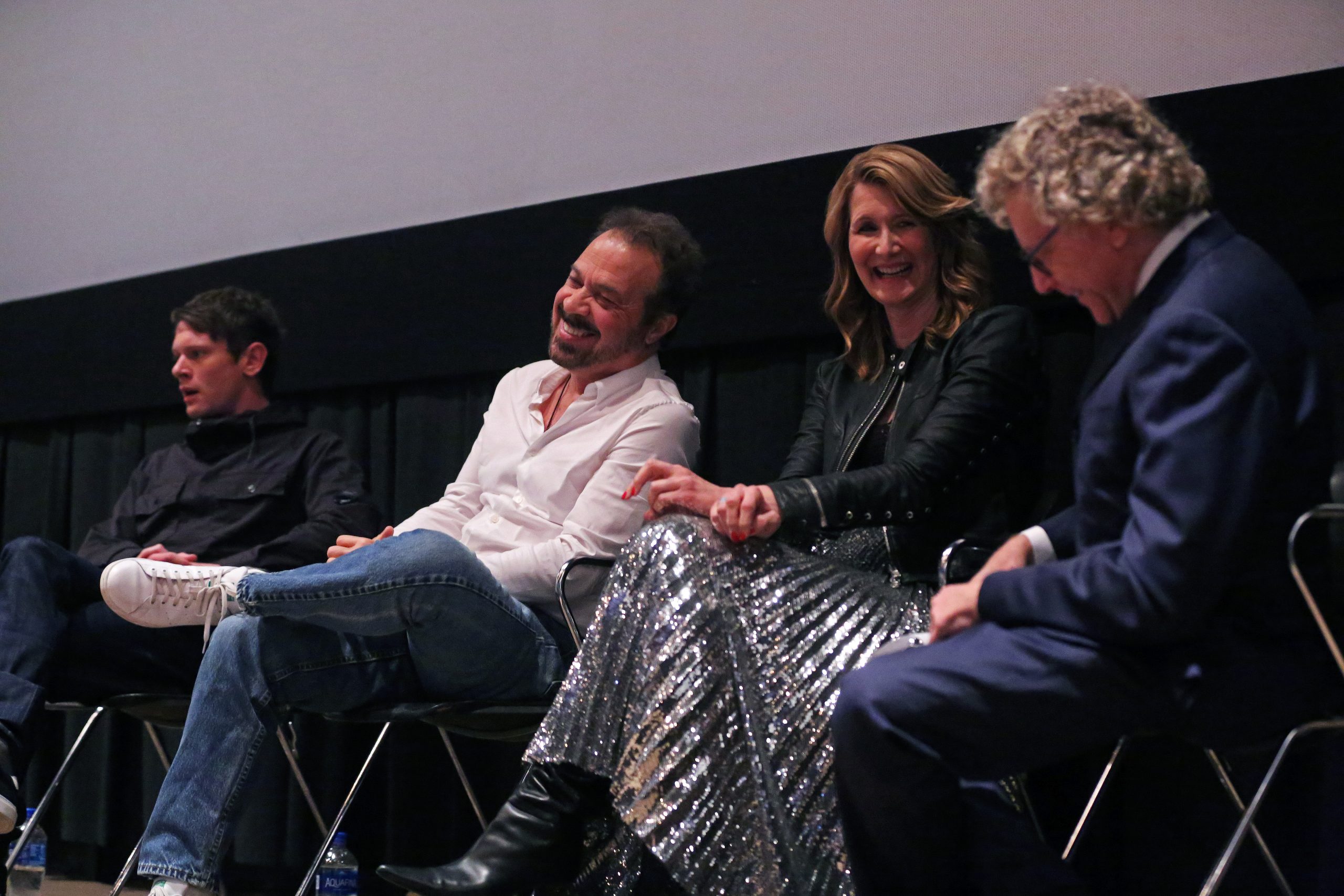 Laura Dern
Actor
Laura Dern has received two Academy Award nominations, four Golden Globe Awards, a Primetime Emmy Award in addition to six nominations proving herself to be a power woman in entertainment. In addition, out of appreciation and respect for the extraordinary gift the Dern family has brought to the big and small screen, The Hollywood Entertainment Museum honored Bruce, Diane and Laura with the Hollywood Legacy Award. In 2016, she was also selected to serve on The Academy of Motion Pictures Arts and Sciences' Board of Governors. Dern recently wrapped production on the second season of Big Little Lies, and is currently working on Greta Gerwig's production of Little Women for Sony. It was recently announced that Dern will star opposite Allison Janney in Tate Taylor's comedy Breaking News in Yuba County. In 2018, Dern completed "JT LeRoy" and Ed Zwick's Trial by Fire.
Additional film credits include the upcoming Cold Pursuit, Star Wars: Episode VIII Wilson, The Founder, Certain Woman, Wild for which she earned her second Academy Award nomination,99 Homes, The Fault in our Stars, The Master, Everything Must Go, Little Fockers, Year of the Dog, Inland Empire, Lonely Hearts, Happy Endings, We Don't Live Here Anymore, I Am Sam, Novocaine, Focus, Citizen Ruth, Jurassic Park, A Perfect World, A Perfect World, Rambling Rose (Academy Award Nomination), Smooth Talk and Mask.
On the small screen, she was most recently seen starring in HBO's The Tale, which earned Dern her seventh Emmy nomination, and on Big Little Lieswhich earned her a Primetime Emmy Award and Golden Globe award for her role as Renata.
Jack O'Connell
Actor
Jack O'Connell's career has catapulted since winning the EE Rising Star Award at the 2015 BAFTA Awards and the New Hollywood Award at the 2015 Hollywood Film Awards and he has fast
become one of the UK's most versatile and exciting actors.
Later this year, Jack will also be seen in Benedict Andrews thriller Against All Enemies, and Max Winkler's Jungleland, Jack was most recently seen starring alongside Sienna Miller in Tennessee Williams Pulitzer Prize winning play Cat on a Hot Tin Roof. Jack's other credits include The Man with the Iron Heart (2017), Money Monster (2016), and Unbroken (2014).
Jack's performance in Starred Up earned him a 2013 British Independent
Film Award nomination for Best Actor, and contributed towards his nomination for the South Bank Sky Arts Times Breakthrough Award.
Ed Zwick
Director
Zwick began his feature film career directing About Last Night. He went on to direct the ACADEMY AWARD® winning films Glory and Legends of the Fall. Zwick also directed the films Courage Under Fire, The Siege, The Last Samurai, Blood Diamond, Defiance, Love & Other Drugs and Pawn Sacrifice. Zwick and Herskovitz also produced the ACADEMY AWARD® nominated film I Am Sam, as well as Traffic—winner of two Golden Globe® Awards and four ACADEMY AWARDS®—directed by Steven Soderbergh. Zwick most recently directed Jack Reacher: Never Go Back starring Tom Cruise.
Zwick has been honored with three Emmy® Awards, the Humanitas Prize, the Writer's Guild of America Award, two Peabody Awards, a Director's Guild of America Award, and the Franklin J. Schaffner Alumni Award from the American Film Institute. He received an ACADEMY AWARD® as a producer of 1999's Best Picture Shakespeare in Love.